For 6 Persons
250 gms cauliflower (medium pieces)
100 gm carrot(small pieces)
100 gm French beans (small pieces)
100 gm green peas (boil them according to Punjabi method)
250 gms red pumpkin (shredded)
100 gm onion (long strips)
¼ cup dry coconut shredded
2 sp khaskhas (poppy seed)
3 boriya marcha.
Little Mace (javantri)
1 sp cumin seed (jeera)
2 cinnamon.
5 cloves.
5 pepper.
2 cardamoms.
2 bay leaves (tamalpatra)
10 tsp ghee.
¼ sp sugar.
100 gm mavo.
Salt to taste.
1cup coriander . (finelychopped)
½ cup curd.
½" ginger
½ cup milk.
2 sp garam masala.
200 gms paneer powder.
50 gm cashew nut powder.
2 sp red chilly powder.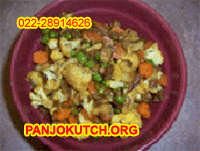 Method:
Heat oil in pan.
Add boriya marcha, cumin seed, mace, cloves, pepper, cardamom, bay leaf, onion and dry coconut and cook for sometime.
Cook it for 10 min on slow gas.
Add cashew nut powder and khaskhas, cook it for 2 min and off the gas and allow it cool.
Grind it in the blender.
Heat ghee in a pan.
Add pumpkin, mavo and curd and cook it for 1 min.
Add milk & ½ cup water and boil it for 5 min.
Add ginger paste.
Add crushed paneer, garam masala, vegetable, salt, red chilly powder, sugar and coriander and mix it.
Boil it for 3 min.
Close the gas and serve it hot.