For The Dabeli Masala
1 red chilli1 teaspoon.
coriander(dhania) seeds.
1/2" (12 mm.) stick cinnamon.
2 cloves.
1/4 teaspoon cumin seeds (jeera)
For The Filling
1 cup boiled and mashed potato.
1/2 teaspoon cumin seeds (jeera)
pinch asafoetida (hing)
2 teaspoons dabeli masala.
2 tablespoons khajur imli ki chutney.
2 tablespoons oil.
salt to taste.
Other Ingredients
15 small burger buns.
butter or oil for cooking .
To Serve
1 onion chopped.
1/2 cup roasted peanuts.
1/2 cup chopped coriander.
1/2 cup sev or nylon sev.
1/2 cup fresh pomegranate (anar)
2 teaspoons fresh garlic chutney
6 tablespoons khajur imli ki chutney.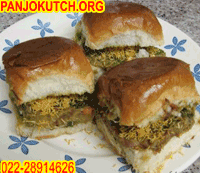 Method:
Roast all the ingredients in a pan for 2 to 3 minutes.
Grind to a fine powder in a blender. Use as required.
For the Filling
Heat the oil in a pan and add the cumin seeds.
When they crackle, add the asafoetida, dabeli masala, potato, salt and ½ cup of water and mix well.
Remove from the fire, add the 2 tablespoons of khajur imli ki chutney and mix well.
Divide into 15 portions.
Keep aside.
How To Proceed
Slice the burger buns into halves horizontally and cook the buns in a pan using a little butter.
Place a portion of the filling on the lower half of each bun.
Top with the chopped onion, peanuts, coriander, sev, pomegranate , fresh garlic chutney and khajur imli ki chutney.
Sandwich it with the top halves of the burger buns.