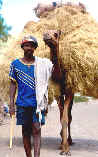 1. Small section should be also reserved for growing nutritious grass as fodder for cattle.

2. Proper research to be carried out for growing grass / plants which are not only nutritious but can be grown in arid area with very less requirement of water.

3. Shaniyar, Jinjvo, Dhraman, Rajdo, etc… are the recommended species of grass to be grown.